Biography | Photo library

Original lead singer and founder member of The Bay City Rollers

Real name: Gordon Fraser Clark, born Edinburgh 10th September 1950.

His early success in the 1960's and early 1970's as lead singer and founder member of The Bay City Rollers, saw him performing lead vocals on the band's early hits: Keep on dancing; We can make music; Manana; Remember and Saturday Night. Leaving the band in 1973 to pursue a solo career as a writer/performer, he released two singles, Steady Love on the Epic label, and Shake it down on the phonogram label.

Nobby performed Shake it down on the Claude Francois 1975 Christmas Special TV show, recorded in Paris shortly before Claude's tragic death. Claude Francois was one of France's most popular recording artists, notably responsible for composing the original version of My Way, amongst other wonderful memorable compositions. This television appearance opened up a new market in France for Nobby's music, taking him on a detour into French films when in 1980 he composed the film score The Big Sky which can still be heard in French cinema's today.

The following three years were spent managing a recording studio and rehearsal rooms in Edinburgh's West Saville Terrace, producing many early recordings for artists who later became successful, including Billy McKenzie from The Associates.

After a spell of acting in comedy musicals, such as I'm sorry the bridge is out, you'll have to spend the night and A slice of Saturday night. for which he received a number of complimentary reviews, including the theatrical newspaper, The Stage, Nobby took some time out to concentrate on his personal life, before setting out to write and record his first solo album for many years.

The album entitled If Only was arranged and produced by his long time friend David Paton who's own band Pilot achieved world-wide success with songs such as Magic, January and Just a Smile to name but a few. He followed up with Going Home, also produced by David Paton. He now presents his third solo album On The Inside. All three albums contain songs that show Nobby's depth of feeling in his lyrics and haunting melodies.

His involvement with other artists has continued, working with Kenny Herbert and Rab Howat on their last two albums 8-1-2-1-9-8-0 (to which Nobby contributed the song Slow Down) and playing harmonica and backing vocals on their latest album Songs of our Lives, produced by David Paton.

Nobby's concern for the environment has seen him involved with various groups and committee's investigating the best use of renewable energy in the domestic field. He has been fighting for greener areas, where over the years there has been an erosion of playing fields and open spaces. This is an issue close to Nobby's heart.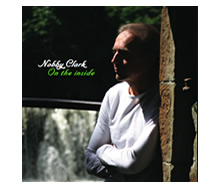 On the inside is the title of the new album with 10 songs written and sung by Nobby Clark and has been held in high acclaim by those who have had the opportunity to have reviewed the album and hear his live performances.